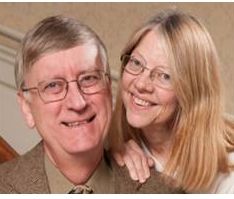 Country of Service – Ukraine (currently in US)
Ministry – Church planting, Bible college and evangelism
Goal: to give students an unshakable faith in the truth and inerrancy of the Bible
Joined GFC's Family – 2007
Ron serves as the President of the International Baptist Bible College in the Ukraine, which he founded in 2006. The college has been growing every year since its inception. It has regular classes in six cities in the Ukraine, as well as in Guatamala, Poland, Armenia, and (coming soon) Estonia. Their goal is to give students an unshakable faith in the truth and inerrancy of the Bible. Since 2006, the total number of people who have registered and taken at least one class is about 2,100. The Mintons also hold Summer Evangelistic English Clubs in their back yard as an outreach to children.
Ron and Nancy Minton were approved as Baptist Bible Fellowship missionaries to the Ukraine in May 2005. Ron Minton grew up in Dumas, Texas where he was saved as a teenager in Bible Baptist Church. He dedicated his life to the Lord at age 20 while in the Navy and has desired to serve Him ever since. Ron holds an MDiv from Grace Theological Seminary, a ThD from Central Baptist Seminary, and was ordained in 1979. While teaching Greek at Capital Bible Seminary, he and his wife Nancy answered the call as full-time missionaries to Ukraine.
Current News and Prayer Requests:
Pray for believers in Ukraine

Pray for the Bible college students to be strong in the Lord.

Pray for God's grace for health, helpers, and churches in these difficult times.
Pray that the believers will be strengthened in their faith and that they will be effective witnesses for
Christ.
Pray for travel and scheduling while in US
Pray for new classes in Estonia to grow
Pray for God to use many of the people being trained in the Bible college
Pray for peace and open doors in Ukraine and surrounding countries.