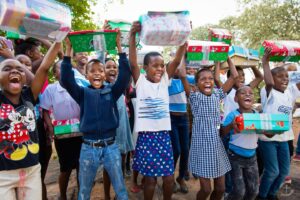 Operation Christmas Child is a ministry of Samaritan's Purse which demonstrates God's
love to children in need worldwide by delivering gift-filled shoeboxes and the Good News
Grace Fellowship Church supports Operation Christmas Child throughout the year by collecting items for these boxes. In the fall there is a church-wide packing party where we pack the boxes and pray for those who will receive them.
Our goal for 2023 is 750 boxes.
The schedule for donating items is:
February Items for personal hygiene: Combs, brushes, fingernail clippers, band aids, toothbrushes, floss, lip balm,
bar bath soap, etc.
March Something special: Donate money for "Shoes that Grow"
April (after Easter sale) Something to love: teddy bear, doll, stuffed animal, soft toy.
May Something to play with: Donate money to order soccer balls in bulk.
June Something to wear: Shirts, shorts, socks, underwear, sunglasses, flipflops.
July Something for school: Notebooks, pencils pens, pencil cases, colored pencils, sharpeners, erasers, crayons,
tote bags, stickers, etc.
August Something to play with: Balls, cars, jump ropes, marbles, yo-yos, puzzles, action figures, building blocks,
etc.
September Something special: note from YOU, photo of YOU/and your family.
October Catchup month TBD, Donate money for shipping.
WHAT NOT TO PACK: Liquids, food, gum, medicines, vitamins, military themed items, breakables, used or dirty items.