Training Leaders International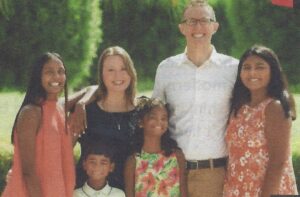 Country of Service – United Arab Emirates (UAE)
Ministry – Serving with the Gulf Training Center of Redeemer Church. TJ teaches and mentors seminary students to shepherd local churches throughout the Middle East, North Africa, and South Asia
Joined GFC's Family – 2022
Redeemer Church is a gospel-preaching community of Christians in the heart of Dubai, UAE. Redeemer started Gulf Training Center with a vision to train pastors and church planters and to send them to countries throughout the region. TJ serves as Associate Professor of Ministry and Mission as well as the Dean of Students for the seminary.
Current News and Prayer Requests:
Thank the Lord for the privilege of teaching the Bible every week to his people
Pray that God saves our children and that they do not resist spiritual things.
Pray that the churches of Dubai would invest in the men of their churches, to raise up elders and pastors.
Pray that we are strengthened by the grace that is in Christ Jesus and not grow weary.